Christine Astor as Siscy Blu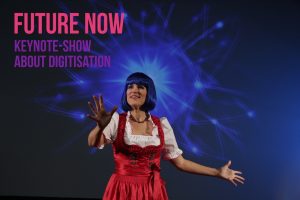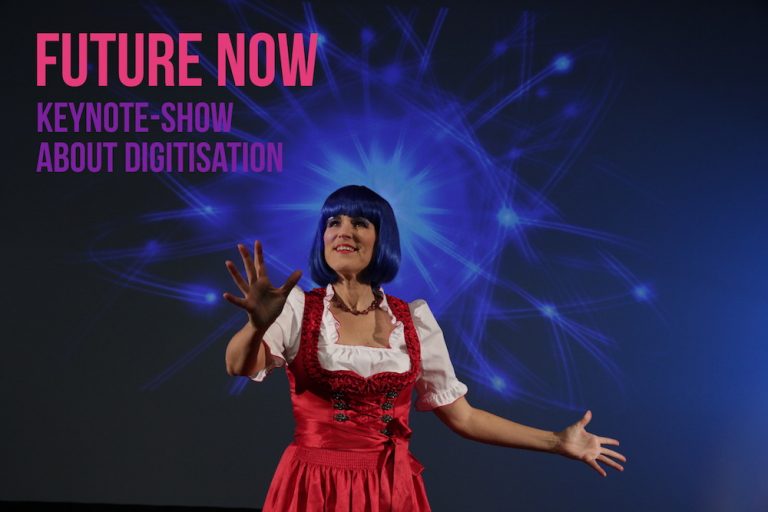 Digitalisation in the 21st century is a challenge to each and every one of us, and this show hits the digital nail right on it's digital head
With a charming smile, a wink and empowering stage presence Siscy Blu presents technological trends and products.
Your guests will be bowled over by the interesting humorous content of this show.
Christine Astor has devoted herself to the highly topical themes "Trends of the Future" and "Digitisation" for her latest show and worked together with leading trend agencies and future researchers. The result? A superlative event program full of surprises: "Future Now – There is a life between 0 and 1".

Professionals and viewers are thrilled!
"Christine Astor, in her show Future Now, was a highlight at our conference. She conveyed interesting content as well as the complexity of digitisation in a very entertaining, appealing and humorous way!" Denis Christesen, CEO Partner Tech Europe GmbH
"Christine presented her program 'Future now' during Partner Tech Conference 2018 in Hamburg. Topics like VR, AI, Big Data and Robotics were told in a story. The presentation was interesting, funny and extremely entertaining!" Dirk Schwindling, CEO TCPOS Group
"Great entertainment with plenty of food for thought that we continued to chew on at home. Thank you very much!"
Prof. Dr. Werner Klaffke (geschäftsführender Vorstand) HDT Berlin House of Technology
Christine Astor has succeeded in making a litter, which sets a new trend. She skillfully combines the latest technological developments with an actor's talent, wit and music.
 This tightly packed show will give you an awesome overview of what's new and good to know about digitization. Book now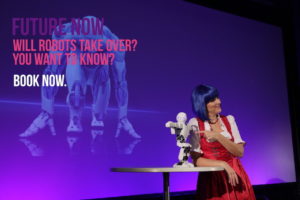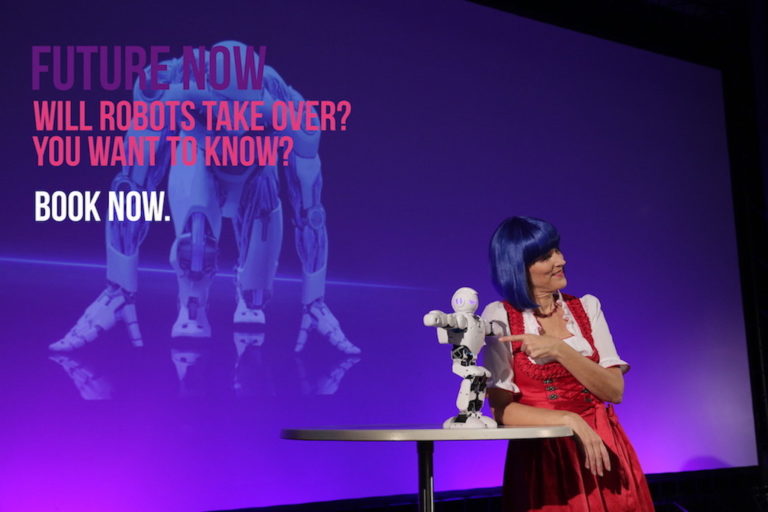 Digital transformation and innovation are about to revolutionize our lives.
Learn how the trends of the future can already guarantee your success today.
Future Now – An entertaining infotainment show on technological innovations, megatrends, artificial intelligence and robotics.
In this funny Keynoteshow, Christine Astor provides orientation in the jungle of technological developments and trends. She is able to draw a fine line between technical innovations and the trends that are relevant to your company.
"Future Now" entertains, stimulates thoughts, inspires and informs in an impressive way.
Your guests, customers and employees experience an inspiring event.
At the same time, the show meets so many absurdities of our modern life with a wink.
And this makes your employees and guests the most touched with digital transformation and robotics.
A must for your future-oriented event or an extraordinary theatrical evening.
The show has a modular structure and is adapted to your event according to the event and the industry in its thematic focus and duration.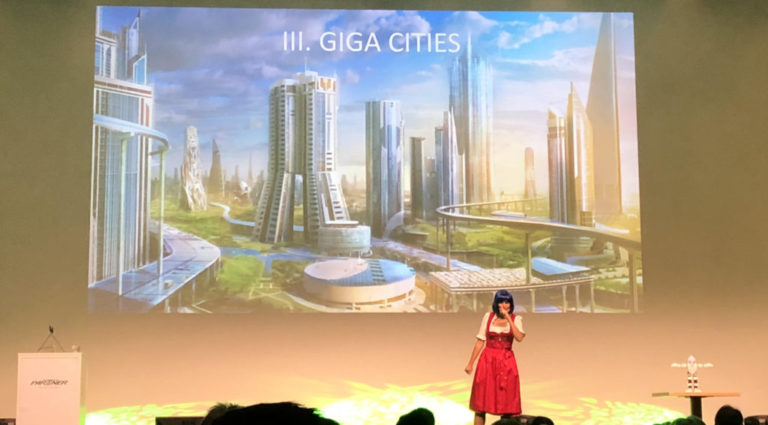 About Christine Astor
19 years of management experience at the R&D strategy department and five years as a Trendhunter in the Innovation Department at BMW are the solid base for the content of "Future Now".
As a charming entertainer, she has what it takes to deliver such complex content in a convincing, enjoyable and humorous way.
Topics include
Digi-Physic. Merging the physical and the digital world.
Human Enhancement. The optimization of humanity and health.
AI. Robotics and Humanity at the interface of a new era.
See more here
In the scientific details close cooperation with the best future research and trend agencies takes place. To be up-to-date with the latest news. Only developments that already exist are shown. The audience will be amazed at what is already possible today. At the same time, they are depriving them of their contact with future technologies and robotics.
After the show Mrs. Astor can also guide a discussion round in English, German, French and Italian.
She is versatile, her keynotes are available both in English and German.